I was too tired to write anything when I got home last night, I had a long but amazing day.
I started my day with going back to Rudan. Rudan is a lake close to where I live. There is Rudan and then there is Nedre Rudan, which means Lower Rudan. And then there is Rudans Friluftsområde, that is the forest part.....a large beautiful lush forest with open meadows and the trees are so green right now and everything smells soooooo good. So me and my brother went for a 2.5 kilometers walk through the forest.
Then I had to play a bit on the horse and on the swings in the play park, small kids and big kids (like me) are welcome. Then we walked to Lower Rudan which is deeper, darker and more mysterious looking than Rudan.
After this we went home. I met up with my friend Zakia for a few hours and then I came back home and me and my brother took pendeltåget (the train) into City. It takes about 25 minutes from where he lives. First we looked for some shoes for him, he is way picky and I tried on some clothes at Åhléns. Then we took the tram out to Djurgården, all the way to the end station and walked back to Djugardsfärjan, the ferry.....hopped on that and got off in Slussen. Walked to Flip Flop Burgers, because that is what my brother was craving, I had a veggie burger and the patty was yummy. Then we walked to the train and went home. Djurgården is amazing, it's sooooo gorgeous out there. Lots of large trees, greenery everywhere and beautiful architecture, here you can find some of Stockholm's museums. I would love to live out on Djurgården.
The tram.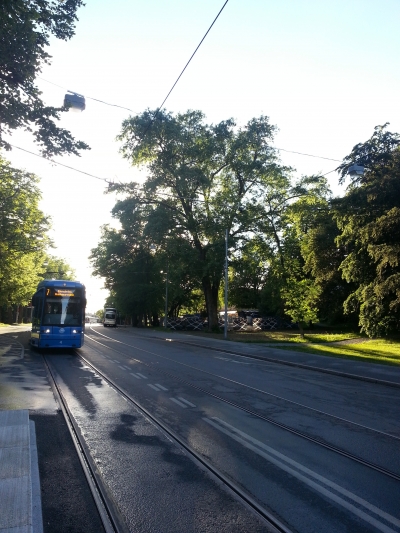 View of Gröna Lund (an amusement park) and Stockholm from the ferry.
Some large boat. You can get on boats in Slussen and go to Finland and other places around Stockholm.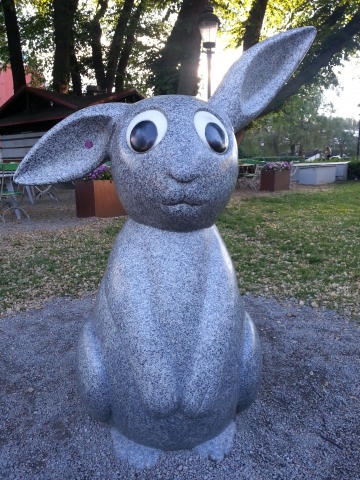 It's raining right now. I am about to get dressed, look for my umbrella and take the train into City soon. Meeting up with Monika at 11 and then Carmen and maybe Zakia. Looking forward to my latte and something to eat. And meeting my friends of course.