My 2015 Burning Man recap is coming to an end.....So how did I spend my last moments on the Playa? DANCING......I spent hours dancing this year and that is exactly what I wanted upon arriving there and what I wanted I got. It was perfect! I think this was my best Burn so far actually, every year it gets better somehow even though it seems like it can't get any better from the time before. Since I did not attend the burning of the Temple this year because it makes me sad I decided to take a freezing nap instead. Then I forced myself to get up at around 10 PM or so and got dressed to go and enjoy the last night of fun. I biked past the Medusa Madness and saw that it was turned into a dance area! The dj was inside the Medusa head and people were dancing underneath the snake heads that were spewing out flames of fire. Of course I joined in! It was great. Amazing energy. After about two hours or so I went to Center Camp to warm up with a hot chai before continuing my night.
Some nice people stopped me as I was on my way out and we started talking. They asked me where I was going and I told them that I was heading for Planet Earth to dance and they came with me. They had never been there before.....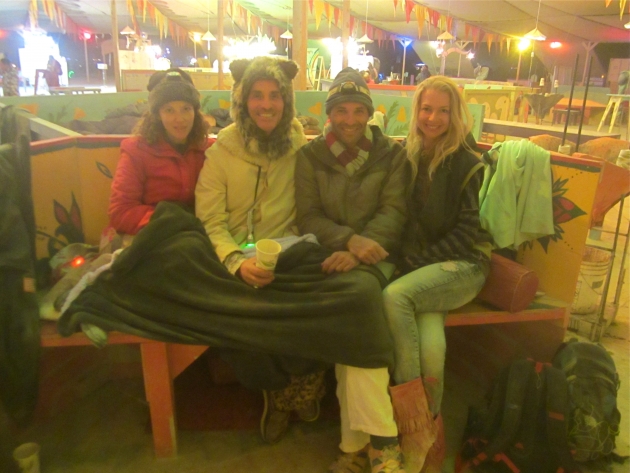 I stayed at Planet Earth until closing, they actually stayed open a bit longer because people did not want it to end. I LOVE that place......OK!? Here I am until I could not be there any longer because it was over. OVER!!! NOOOOOOOO!!!
It must had been like 4 or 5 AM by that point but I was craving more music so I decided to head over to my other favorite place, White Ocean. Across the whole Playa. Well, then I discovered that my back tire was flat. That was my second flat on the Playa this year. A few days prior I had a tack stuck in my front tire but I quickly got it fixed at a bike fixing station. Well, there were no more bike fixing stations around the last night. So I walked. (And I got followed, my first creepy experience on the Playa but I will write about that another time). Only to discover that White Ocean was closed......!
But there was another dance area still open close by. And it was bad ass. Great sound and great beats. I danced non stop for a long time and watched the sun come up. It was beautiful and magical.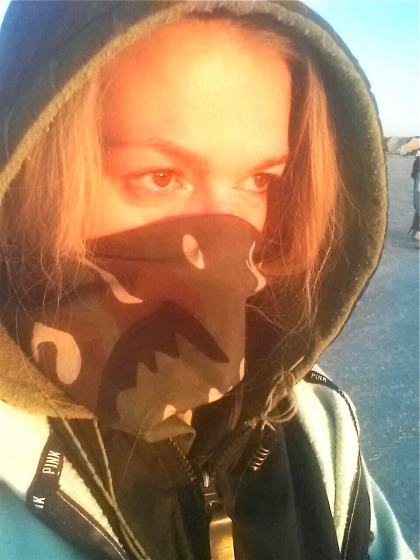 Hello sun!
The next day I helped clean and make order. Got my own stuff packed up, dusted off and ready to go. I collected MOOP (a perfect occupation for me actually, I should become a trash collector).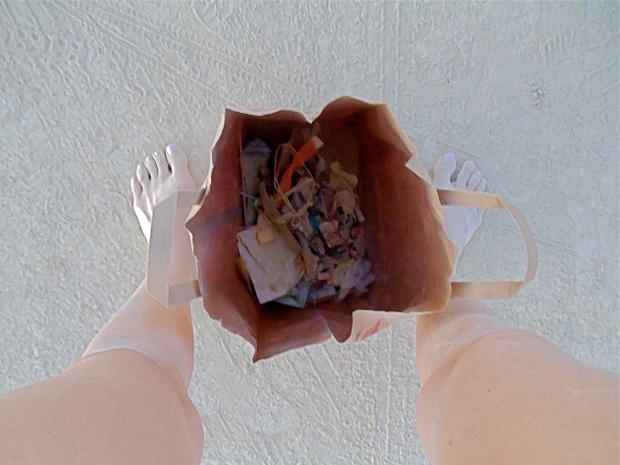 I watched the sun set behind the mountains......with a sinking feeling in my body.
Driving out I was sad. Actually the sadness started creeping on the last Saturday because you just KNOW that the end is near. I have been talking so much about being sad that Burning Man is over and having Playa depression that some people might wonder if I live a miserable life outside of Burning Man. Just to clarify, no I don't. I am extremely grateful for my life and think that I am a happy individual in general but it is AWFUL when Burning Man comes to an end. At least for me. I feel like that's where I belong. For me and many others, although it may sound like a cliché - Burning Man is HOME.
A couple of days ago I made a Burning Man memento and filled it with Playa dust that I collected by the Man after he burned down. I also sent a few out to people that I spent time with on the Playa this year.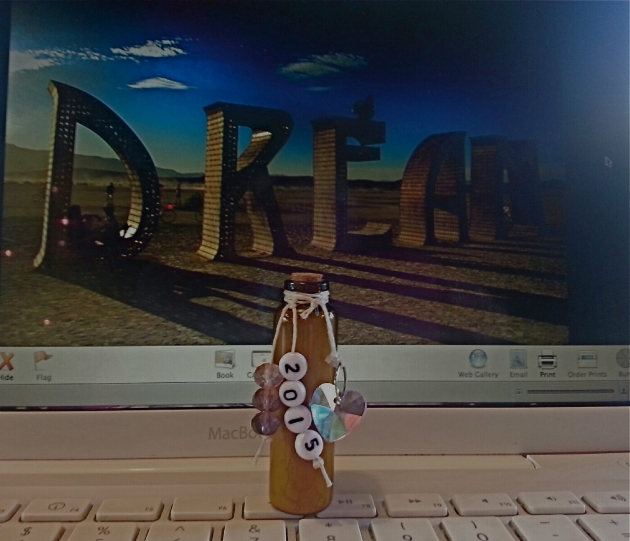 Well, that was it my friends. Until next time......because the Man burns in 347 days!