Ouff, I am tired and ready for sleeeeeep. My brother and I sat up until 4 am last night......then I went to sleep only to wake up four hours later, wide awake, I was tossing and turning in bed trying to sleep more. Today I went to the lake Rudan again with Marie and Timmy. Still no swimming for me.....it was too nice in the sun. Here are the pics from my day.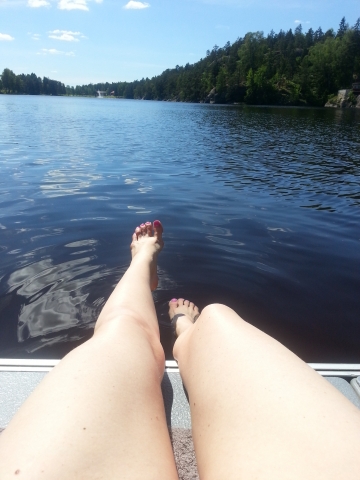 Swedish strawberries are so yummy and so sweet. No other strawberries will do.
After Rudan I went into City with my brother. He wanted to find some shoes......but first I needed nutrition. Can I have it all? It all looks so good! I had rhubarb and strawberry pie with Tahitian vanilla creme. OMG. Heaven. This time I went to Gunnarsons.
I found my new fave place to shop, Mood shopping gallery. That place is great. This is a statue outside Mood, as soon as I saw it (especially the shoes) I knew I would love Mood.
Great shops, very cute cafés. Love it.
Lagom. A Swedish word......best way to translate it would be....."just right". Look it up to learn more about it, lagom is a very Swedish concept. Am I lagom? Sometimes yes, sometimes no....it all depends on who you ask.