I start out every day at the Playa with my precious Center Camp time. I love going there and sit down with an iced latte or chai that I savor every sip of, relax alone or with a friend.....think, reflect, plan the rest of my day, talk, read, watch people. I love that place. ❤ This year Center Camp celebrated 20 years on the Playa!
So yes, you can actually buy some stuff in Black Rock City. Beverages at Center Camp and also ice at the ice stations.
I think my little Fjällräven backpack is my official Burning Man tote now. It's the second year for it on the Playa now. The first year I used my Deery Lou backpack. But Fjällräven is Swedish like me and has many useful compartments for my stuff plus is CUTE!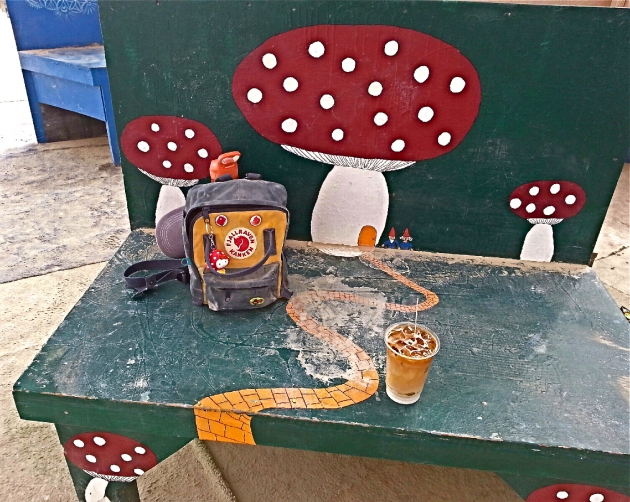 I love the flags flying at Center Camp, they flap nicely in the wind and the colors are so pretty. The whole place is just NICE. Next year I want to take a long nap there. Many people sleep there, very calm and soothing energy over the whole place.
This is me on my last visit to Center Camp this year, I was so sad that this was the last time for a whole year. Nooooooo!
So I'm subscribed to a Burning Man newsletter that is called
The Jackrabbit Speaks
. Here is some of the latest......this is the first newsletter since the Burn.
"Welcome back to... some semblance of reality and normality (whatever that means to you)! Don't worry, the feelings you're feeling are okay, no matter what they are.
That Burn was something else, huh? A week in Black Rock City's no breezy vacation. Last year's torrential rains were replaced by this year's cold temperatures and major dust storms like we haven't seen in a while. Also, there was an overwhelming infestation of non-bugs all over the place. It was unbelievable how many bugs there weren't.
So yeah, what you made happen this time... wow! From the Totem of Confessions to R-Evolution, Dream to Love, it was absolutely incredible! And of course The Midway around the Man! There was such an artistic abundance. These pieces drew people together, provoking discussion, participation, even impromptu performance.
And while the media loves to fawn over who was on a Segway at Burning Man, we know full well that the real celebrity is YOU, the people who make Black Rock City the world's most incredible crucible of creativity and wonder. Thank you for bringing what you brought, and doing what you do, and being who you are."
There is even a link to an article about how to cope with post Playa depression. I'm not the only one feeling super sad that Burning Man is over and that I'm back in reality. Post Playa depression is real and I suspect that majority of the people attending Burning Man feel it to some extent. Here is the link but I am crying reading it here at Coffee Roasters. Good I can hide behind my hair!
http://antranik.org/dealing-with-post-playa-depression-burning-man-i-love-you/