There are many places to get coffee in Tokyo. Starbucks is everywhere here and dominates the market but of course there are other coffee chains as well. And plenty of other non chains. The other day I got a café au lait from a man with a small coffee shop, just one table inside and he plays jazz records on vinyl in there. I didn't not take any pictures of the place (I regret that now) but his cafe is located in Higashikouenji. Worth a visist if you are into jazz.....and coffee.
I got a delicious latte at Prolog in Sasazuka - look how pretty!
I tried a latte from a coffe machine at a 7-Eleven, not bad.
A couple of days ago I met up with my friend Kazumi and we got some Starbucks at the Tsutaya/Ginza 6 location.
SUPER FANCY location, can't be compared to any Starbucks I have been to before. An experiece in itself. It said no photos.....so I obliged. There was a small art exhibit off to the corner, I snuck a pic there.
I like the Starbucks meny better here in Tokyo, more choices that I like of everything. Like the tea lattes for example.....I even saw one location that offered Earl Grey tea latte AND English Breakfast tea latte.
The Melon of Melon is back for the summer.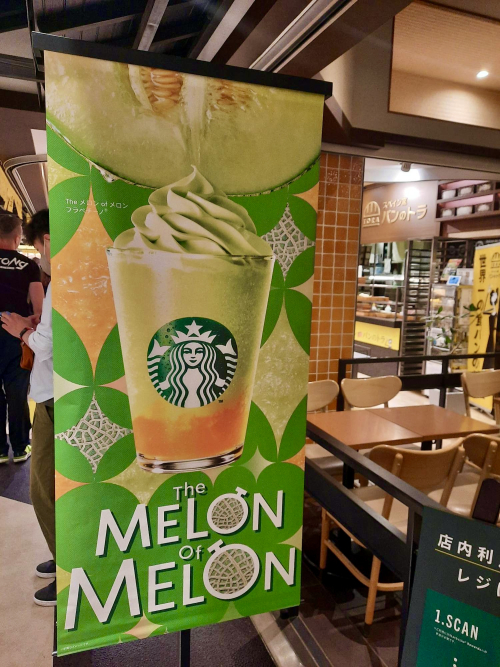 And in a few days you can get a Strawberry Frappucino.
You can get oatmilk if that is what you prefer, which I do. The staff is super polite. The Starbucks here are clean.
Nobody (as in the guests) act rude. Yes, you get WiFi at Starbucks in Tokyo as well. My venti iced oatmilk latte was 580 yen. You pay a little more if you opt to sit at the location (as a table fee). They also have tableside baskets for your purse/briefcase, I like that a lot as well. It is an overall much better experience at a Tokyo Starbucks than in a US Starbucks. (Is anybody suprised over that fact?)
To end this coffee entry, look at this vintage coffee bean grinder. Beautiful!