What do you eat at Burning Man? Is it like a fair so you can go up to a food stand and buy a burger or a funnel cake when hungry? No. You have to bring in your own food and water.....self reliance - it's one of the ten principles of Burning Man. You can only buy ice and then coffee and chai at Center Camp. Last year I lost weight at Burning Man. This year I was munching away and I think I actually gained a few pounds despite biking around for miles on the Playa. Not that it matters, just a random fact that I noticed.
I make mental notes to what I eat or not so I know what to bring or not for next time.
Why bring in more than necessary? So, I finished my KIND bars (I gave away some). I actually drank some beer, I like a cold beer now and then. I ate a lot of chips and dips and sliced up cucumbers with salt on them, that was my favorite I think. Check out my fancy cheese platter!
.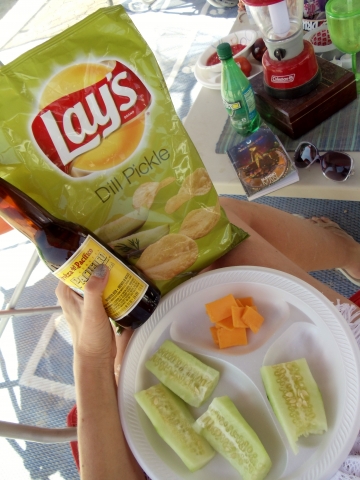 I ate some fruit but far from all the fruit I brought with me......fed leftover apples to some horses on the way home.
So next year it will be pretty much the same as this and last, KIND bars, cut up veggies (cucumbers and peppers) with salt on top, fruit (nectarines) a six pack of beer, chips and a few different dips. Mineral water and fruit juice. I can see maybe bringing in some yummy lentil soup also. There is also plenty of drinks and food that people serve all over Burning Man, you don't have to starve......bring a cup and enjoy what there is to be offered.
But remember, be self reliant!
I had a latte every day in Center Camp, one of my fave moments of the day. Sipping on an iced latte while people watching and maybe making new friends at Center Camp! Sometimes I would go back at night for a hot chai.