No drugs for me at Burning Man this year. I know people are curios about that, they think Burning Man is some kind of a large drug fueled sex orgy an not much else. Far from it.
From what I have observed, people are way more drunk and drugged up in the village I live in here in Alaska. I was tempted by these brownies (soooo cute too).....but decided to leave them alone. There is a reason for that. I don't want to disclose the reason but I had to be responsible. Next year though!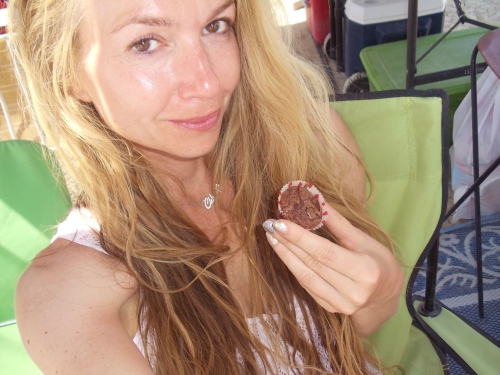 Instead I got tipsy a few times. I discovered that I am a very happy "drunk", I would just walk around or dance with a smile plastered on my face. I had the most delicious freshly sliced grapefruit and vodka drink, so good that I pedaled back in the hot sun to the place where I had it served to ask for some more. At the TIKI bar they had a very sweet fruit punch made with rum and vodka, tasted like juice. I spent some time in there sipping on that, meeting new people. Then I had a couple of shots one night. Very fun times I have to say! I can take it or leave it, I don't need drugs or alcohol for a good time. I see both substances as an extra spice that I indulge in and enjoy once in a while. And if you think using drugs (the illegal kind) occasionally is baaaaaad then I can say that I believe that being informed about them and indulging once in a while, if that is your wish, is a heck of a lot safer and healthier than smoking cigarettes every day or poison your mind and body with prescription drugs on a daily basis. NA ZDROWIE!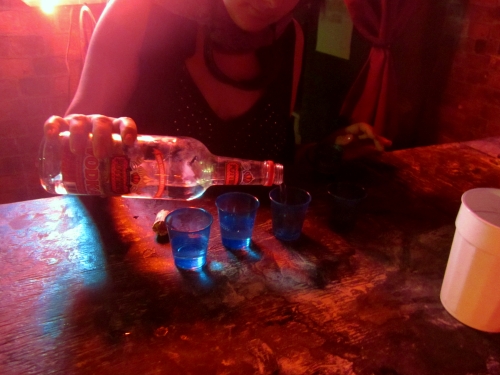 I have a GREAT story about a man I met and talked to in the TIKI bar......One of the volunteer bartenders told me it was his first time at Burning Man. He was 60 and LOVED everything about it, wished he would had made it out to Burning Man before this time but couldn't.....because of life - work, obligations etc. The reason he was there? His 83 year old father that was sleeping in a large RV connected to the bar. His Dad has been attending Burning Man for the last 14 years! His wife passed away four years ago, she was never into the Burning Man thing and the Dad would go alone all the years, meeting up with his friends at the Playa. Well, this year he got "married" at Black Rock City. 83 and enjoying his life!
THAT is how I want to live my life too when I'm in my 80's......!
One more pic of the cute brownie......just because!
Enjoying a refreshing grapefruit drink.