I took the train to Växjö last Saturday.....SJ (Statens Järnvägar). I lived in Växjö for a few years, when we moved there I was NOT happy at first, having to uproot and leave all my friends in Stockholm. Well, I made new friends.....and they are great! I have kept in touch with most of my friends in Sweden, we get along really well and there is no crazy drama and BS like I have encountered too many times with people in the US.
The train is a fast train....it only takes about 3 1/2 hours, Växjö is 334 kilometer away from Stockholm. I needed reading material on the train.....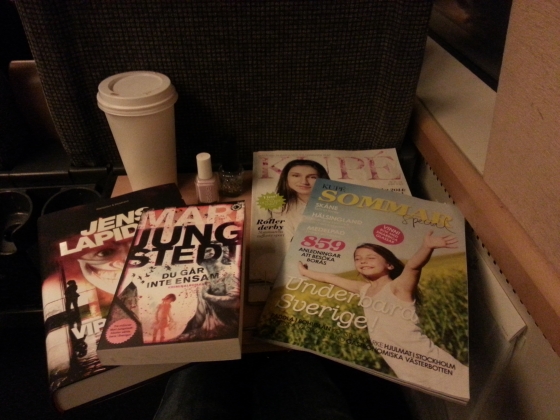 I had a Småland beer upon arrival, Växjö is situated in Småland......one of Sweden's 25 landskap (provinces).
Later that evening, me and Rose-Marie (I stayed with her) met up our friend John and went to Condeco for some fika. Fika is a very Swedish concept.....everybody does it, well the people that I know at least. You can read more about it
here
Me and John. He won several Judo championships. My personal bodyguard.
Then me and Rose-Marie continued on to mingle while John went his way.......I think he had a late night date.
The next day it was gorgeous and sunny out.....so we spent time outside.
Later on it was fika time again. We went to a very scenic place, Toftastrand. This time it was me and Rose-Marie, John and Pernilla. We sat there for about three hours and talked non stop.
Lots of discussions about politics, I loveeeee sharing thoughts and opinions. No need to agree on everything.....disagreeing and having lively discussions is great, we are still friends and learn from each other.
And then Monday came around faster than I wanted, we started with breakfast at Stadshotellet.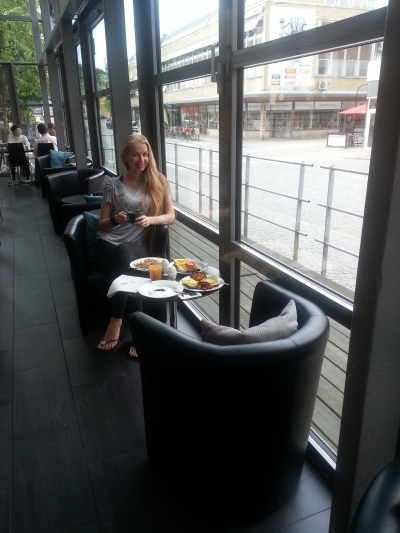 Later some more coffee......fika time! Of course.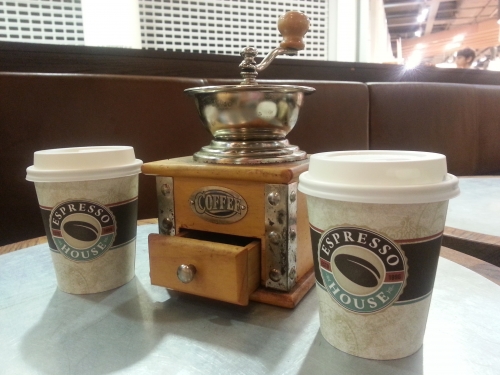 Time goes by so fast. I think about that a lot. I didn't want to leave but I had to. And that was my Växjö recap. Of course not everything that I did......but some of it.
I hope that I will see my friends fairly soon again, I miss them already! ❤ ❤ ❤