The other day I visisted Skogskyrkogården (Woodland Cemetery), a UNESCO World Heritage Site. It is a beautiful place to visit and relax the pace for a while.
I walked around and looked at tombstones, statues of angels, admired an interesting gate, saw Greta Garbo's grave and there is a visitor center with a giftshop, café and an exhibition (not open year round though). You can't help but reflect on life, death and the afterlife or lack of thereof when spending hours at a cemetery.
Resurrection Statue.
Angel of Death by sculptor Carl Milles.
An interesting keyhole.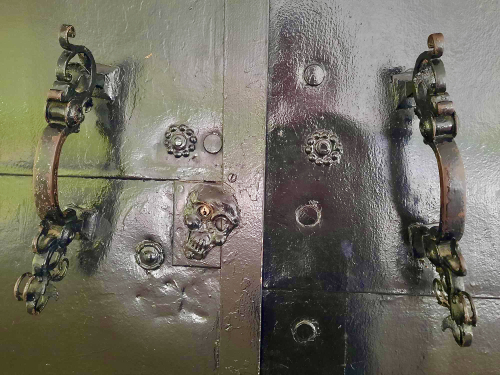 This gate is intriguing to me, it's located inside the Woodland Chapel which was locked so I took the picture through a small window in the door. The giftshop at the visitor center sells a poster of the gate. There is something about the skulls with the snakes underneath them.
My personal thoughts on death.....Death scares me because it is the unknown. I dread the day somebody I am close to passes away. I do not want to go through that, again. I experienced one huge loss once and I think about that daily and it hurts.
I do not want to be here on Earth again, one life is enough for me. Just like the Buddhist believe, existence is a cycle of life, death, rebirth and suffering and to me being alive is to suffer so I do not want to suffer another lifetime, or even worse over and over again in samsara.
How do I suffer you might ask? I am extremely grateful that I have food, water, shelter, clothes, health, everything that I have but I get sad everyday when I see and read about human behavior. I get sad if I see any kind of bad, from too much litter laying around to a human or an animal that can't defend themselves get mistreated. I do not like feeling that deeply because it affects me. I can feel it in my heart area and stomach. There is too much bad in the world. So if I can just die one day and maybe if I am lucky/blessed get to spend forever together with all the pets I have known and will know and all the other beautiful animals in a nature setting in some sort of a nirvana afterlife then that is a perfect forever ending to me.