Ready for some news? No not the latest about Ukraine, US circus politics and whatever else that is happening.
Strip club news! The uplifting news that make life fun!
So I am a bit late with the news on which lovely lady won Miss Exotic Oregon, it was announced in January and she ended up on the cover of Exotic magazine that month. I saw the competition back in December and my fave was Nia and guess what.....I know talent because Nia did indeed win. Great performance, gorgeous girl with a beautiful smile and nice hair.
She was the best I thought and she got my vote and I handed her the beads I got upon entering the venue. Here she is. Resting on top of Fatima's bosom.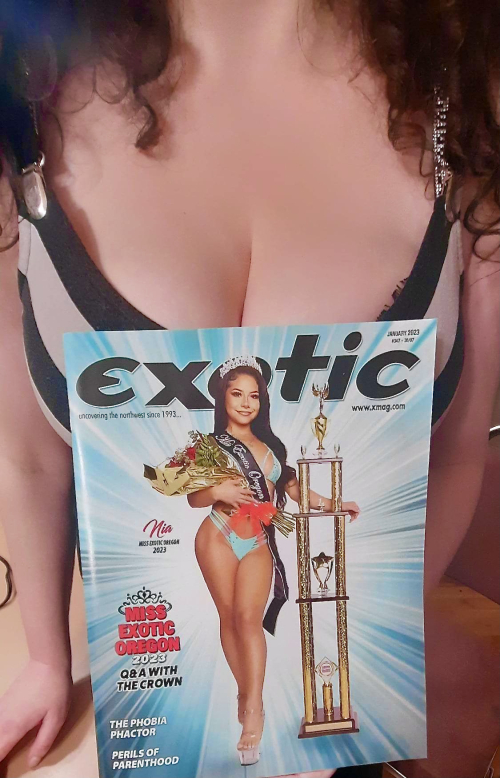 This coming Saturday I might have to go and see these two put on a show, they are also winners of Miss Exotic Oregon. I bet the show on Saturday will be amazing.
If you need to make some extra money you should head to club Déjà Vu in Lansing Michigan on May 20. Prettiest butthole competition is happening. I highly encourage truckers with hairy moist buttholes with some toilet paper remnants to enter, people with a purple hemmorhoid or two hanging out, the extra busted buttholes, somebody with a pinworm infestation
(I bet the worms would glow well in the blacklights). Why not? Everybody should be represented.
I mean.....who comes up with this? Prettiest butthole? I just wish some heavy sweaty trucker dudes show up and try to enter, it does not specify that it is for females only. Some pervs came up with this bullshit "competition" just so they can stare at some pink fresh teenage girl buttholes. Like really now. Barf.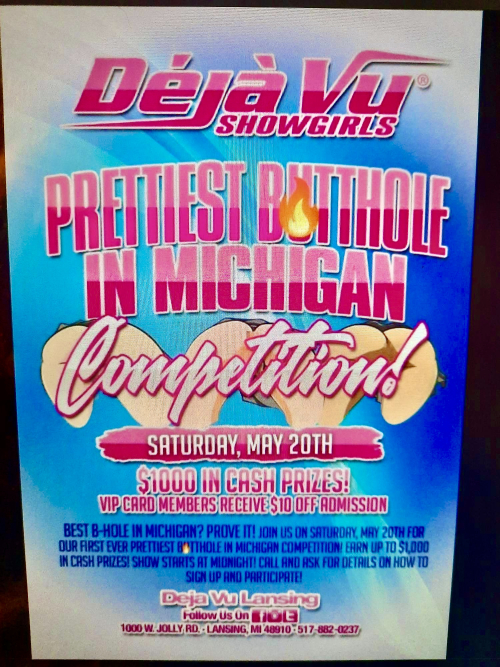 And finally.....start planning for Christmas and give away the gift of 2023. A board game like no other.....Nightshift.
"Nightshift is a competitive, thematic board game. Players adopt the role of a dancer and must charm worthwhile customers into emptying their wallets. The player that ends the night with the most money wins! Be careful about interfering with another girl's customer or your night may not run so smoothly..."
Once you learn the skills us dancers have you will not fail at life. take it from Tati.
Exotic Cancer a very talented former (?) dancer, artist and designer. I really like her stuff, I have mentioned her on the blog before.
www.exoticcancer.com