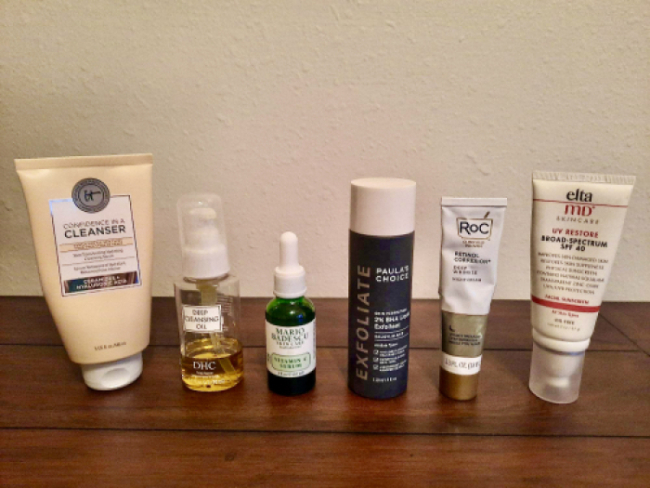 Let's take a look at the products that I use for my face. I have a lot of face products but I tend to use like less than half of them, more like 1/3 or so. The rest are taking up space in my bathroom cabinet and taking up thoughts like "hmmmmm I should use that sometime" and then I don't.
I KNOW that sunscreen is super important and that is the one skin care routine that I am am really bad at, I totally fail in that department.
Last summer before Burning Man I bought the EltaMD UV Daily Broad Spectrum SPF 40 (the white tube to the very right).
I used it like twice at Burning Man. Instead I just covered my face in bandanas during the day and yes during one of the dust storms I got a sun burn on my face even though I had covered my face with the bandanas. I hope it is still good to use because I will try to make an effort in using it as soon as the sun starts peeking out more. It comes highly recommended by dermatologists by the way as a great sunscreen.
Let's go through the products from right to left. Next to the EltaMD is the RoC Retinol Correxion Deep Wrinkle Night Cream, can be used nightly although I would probably start off every other night due to the retinol. I have only used it like two or three times though and for desired results you should use it for at least three months on a regular basis. It goes on nicely and it smells good.
Paula's Choice 2% BHA Liquid Exfoliant is a great and affordable exfoliant. It really works on keeping the pores clean. I highly recommend it. Mario Badescu Vitamin C Serum is a serum with vitamin C and yes I think it delivers.
Tingles on the skin, not to be used excessively and be careful if you have sensitive skin. DHC Deep Cleansing Oil is not expensive and works OK (not my fave cleansing oil that I have tried though and I won't buy this product again). I recently ran out of my Neutrogena face cleanser (Neutrogena Naturals Purifying Facial Cleanser), I think they discontinued it because I looked for it in a couple of different stores and no luck. So when looking for a replacement I found a cleaser by It Cosmetics called Confidence in a Cleanser and it works well. I sometimes double cleanse. That is when you first use a cleanser with oil and then follow up with a water based cleanser.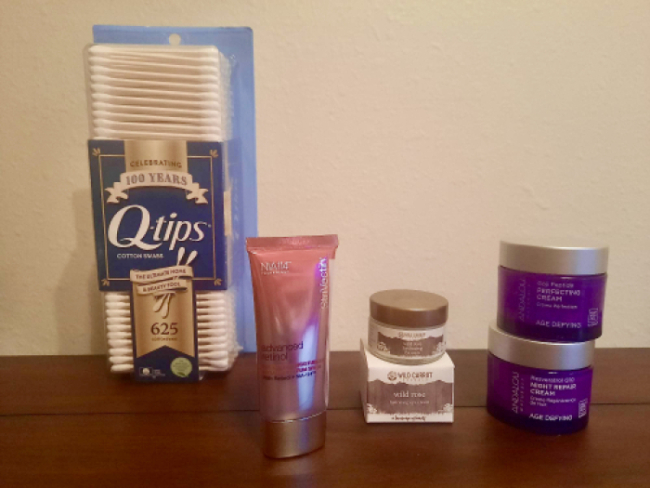 Now these are the two face creams I have been using for a few months. One for day and one for night. Andalou Naturals Goji Peptide Perfecting Cream (for day) and Andalou Naturals Resveratrol Q10 Night Repair Cream (for night). I really like both, they feel like good quality face creams. The night cream is especially luxurious, soothing and smells amazing.
For the delicate skin around the eyes I have been using Wild Carrot Wild Rose Hydrating Eye Cream. I like it a lot, it is gentle and nice and affordable. My latest skin care product is a sunscreen by StriVectin, Advanced Retinol Daily Repair Broad Spectrum SPF 30. I got curious about it because it contains retinol and that is usually not a day use product. So far I have only used it once but it felt very nice on the face and goes on smoothly. I will make an effort to start using sunscreen on my face, hands, neck and décolleté on a regular basis. My biggest skin care regret is frying myself in tanning beds for years and burning my skin in the harsh sun too many times. That is one sure way to ruin and age your skin. I am vain so I want to have nice and supple skin of course. I can see the sun damage on my hands and my chest area (décolleté). Plus I have a LOT of moles/freckles all over. I want like 90% of them lasered off.
And what about the Q-tips you might wonder......? How are Q-tips fitting in here with all those products? Well, I have a thing for Q-tips and their "hidden" message (says my imagination). Seems like each time I am getting ready to run out of Q-tips I also come to a change or event of some sort in my life. I just ran out of a box and yes I am going through some rather difficult and often upsetting stuff that I am trying to work through right now......a one day at a time kind of situation. A rather big change in the situation happened today, not sure of the outcome yet. I opened this new box of Q-tips yesterday, I used two so far so 623 to go. I wonder how long this box will last? And will something happen in my life when the Q-tips in this box are gone?
As far as face creams go.....my next purchase will probably be the SkinCeuticals Triple Lipid Restore 2:4:2, I have been eyeing that one for some time. I got a sample of it last year and it really felt amazing on my face.