This year I decided that I was going to participate at Burning Man by being a volunteer. There are many areas for volunteering but since I love Center Camp and since I love latte I decided to apply for a barista position. It only made sense. Previous barista experience is a requirement. I applied a few weeks before Burning Man, exchanged some emails with café staff management and got in.
First I had to attend a mandatory training session at the Café and then I did three shifts, each shift is four hours long or should I say short.....because those four hours go by SO fast. I did two 11 am - 3 pm shifts and one 3 am - 7 am shift.
They made sure I knew what I was doing for the 3 am shift, I had to make a few espresso drinks in front of the shift supervisor and when I was done she basically said....you are good to go, you know what you are doing. I was slammed that shift, I was the only barista for a while and while I was making a drink I would sometimes have six more orders waiting.
Volunteering as a Center Camp barista aka Café coffee cosmonaut, how do I even start explaining..... It was SO MUCH FUN!!! I met so many nice people! Being a volunteer at Burning Man was one of the best decisions that I made in a long time. Am I doing it again? ABSOLUTELY! With pleasure and a big smile on my face.
Center Camp - I love this place! ❤
An espresso machine I worked on. The Café at Black Rock City is the the largest temporary freestanding tensile shade structure in the world. And some say it is the busiest coffee shop in the world for the duration of Burning Man. Is it busy? Yes.
Some of the people I met and worked with at the Café......
Pascal from France. His first Burning Man.
Ola from Poland but residing in London. This was her first Burning Man.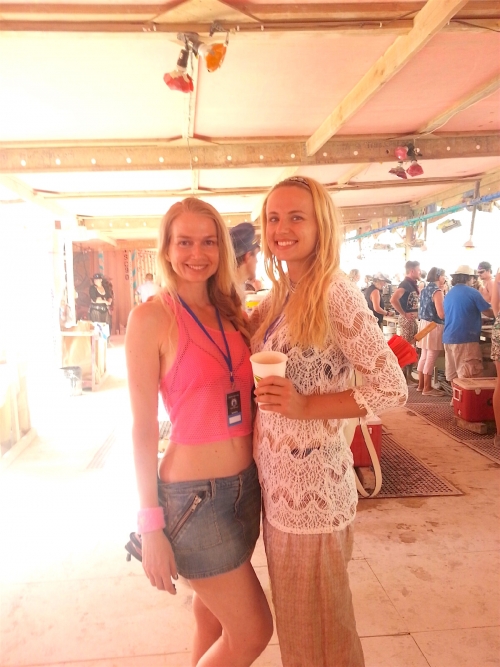 Donald and Lynda. Donald's second Burning Man, he was there for about a month! Setting up internet and whatever else he was doing.....I was so jealous.
I want to be there for a month too! Lynda's first time, she also volunteered at the Medical station because she is a nurse. Lynda wasn't too sure about Burning Man.....she said it was hot and dusty. I told her she might change her mind.
The morning shift crew, well some of us.
So besides baristas there are cashiers, runners, shift leads and I don't even know what else.
And me.....about 7 30 am, been up all day and all night. So not ready to leave Burning Man but a few hours later I was on my way home.
And another thing.....I made tips. The Café is one of the two places that money is exchanged at Burning Man, there is also ice for sale at Arctica. I decided to donate all my tips to a local spay and neuter project and I rounded up the amount a bit with my own contribution. The money will allow for a spay of a dog with some left over for whatever else the animals need.
You can also donate your tips directly at Burning Man. Our group (consisting of me, the cashier and the runner) made a $45 tip one time from one person, Donald was the cashier and he took the order. The tips get split between everybody working that shift.
If you are curious about Center Camp and Burning Man in general you should check out the video in this link......
https://burningman.org/event/volunteering/teams/center-camp-cafe/
Thank You Universe for leading me to Burning Man! ❤