I attended the same two burns this year at Burning Man as last, the burning of the Man and the Temple. The Man got set on fire Saturday night and I made sure to take some pics of me in front if the colossus in the daytime. They start preparing the Man for the burn on Saturday by stacking up firewood and fencing off the area.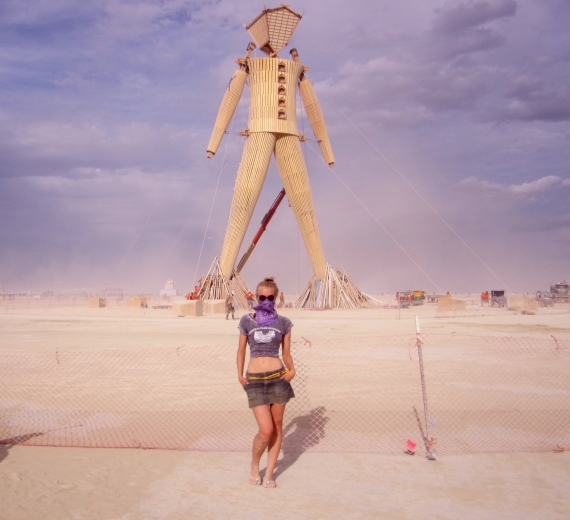 In the evening a large crowd gathers in a circle around the Man. There is a pre burn ceremony with fire dancers and stuff but I didn't catch much of that.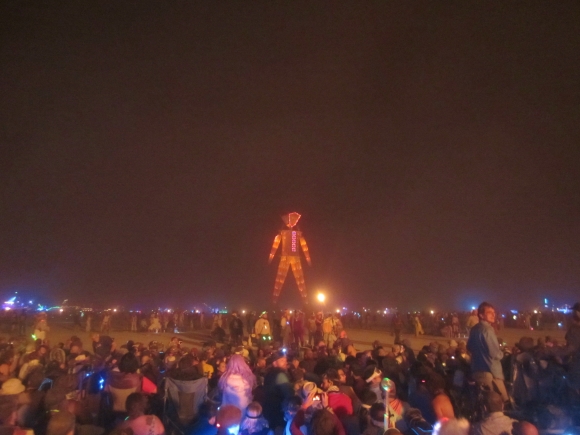 Then the Man slowly starts raising his arms and everybody cheers......
Me in the crowd.
The Man burnt for a looooong time, it was a very stubborn Man this year. I'm not sure how long I was sitting there watching the flames but I'm stubborn too and I decided I wasn't going to move until I saw the Man fall. And finally there was the collapse......
This was what was left the next evening, some parts, ashes, smoke and heat. Kind of weird.....you watch the whole thing unfold and then it's over just like that. Like life. Hmmmmm.......that is depressing actually.