Goodmorning all my fans! I'm at Coffee Roaster (my office) this gray Monday, there is a heavy feeling of rain hanging in the air. Coffee Roasters changed to winter hours, they will now be closing at 3.....I'm usually here earlier than that so I should be fine. Two of my fave baristas quit to move away from this village down to "the lower 48" as we here in Alaska refer to the rest of the US (Hawaii not included). I don't blame them, they are young, pretty and want to see and experience what life has to offer. I told them about Burning Man, that's a good start.
So let me fill you in a bit about the latest stripper news, local and other.
The two clubs in Williston - Heartbreakers and Whispers are getting sued. I worked at both. Now you know ladies, in case you are thinking about traveling there for work. I'm sure that it's business as usual there, until this matter goes before a judge or however they are going to resolve it. I still get comments and e mails on my old blogs that I wrote about work in Williston from girls from all over, wanting to know how they can work there. Girls e mail me their pics thinking I am in charge of hiring or something. I haven't worked in Williston since March 2012, I don't know whether the money is good or not. Try for yourself, that is my advice.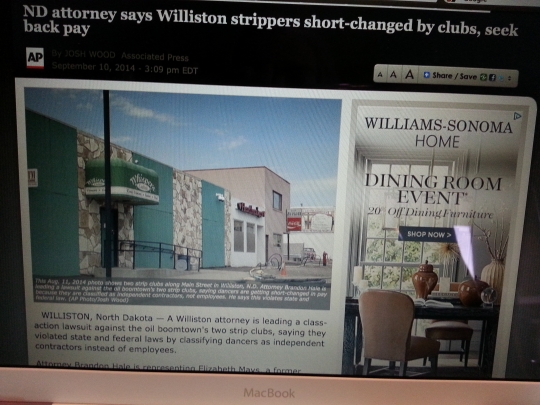 Here are some snippets from the article, "A Williston attorney is leading a class-action lawsuit against the oil boomtown's two strip clubs, saying they violated state and federal laws by classifying dancers as independent contractors instead of employees."
"Documents filed with the state's Northwest District Court in late August say Mays and others were not paid an hourly wage at the clubs. The suit is seeking back pay for thousands of hours of unpaid work, along with attorney's fees and punitive or liquefied damages."
"Hale added that Williston's strip clubs received national attention as a goldmine for exotic dancers — with reports of women earning up to $3,000 in a single evening. But in reality, he said, women were earning less than $500 a night on average."
"In recent years, federal judges in several states have ruled that exotic dancers are entitled to minimum wage and protected by labor laws."
I think that most strip clubs are breaking labor laws. Girls working as dancers often get taken advantage of by owners and management, paying all kinds of house fees and fines, late fees, this fee, that fee, tip outs etc. If the dancers were treated according to the law there would be no lawsuits where the dancers would be winning. Now if the dancers are actually getting a large chunk of the money awarded to them by winning the cases or the attorneys involved get the most of it, that's another story. I am all for dancers suing if legitimate, absolutely!
Dancers have been mistreated by strip clubs for a long time and have rights just like every other person working and paying taxes in the US.
I might be packing my dancer suitcase and go on the road again next month. This suitcase......
Not to North Dakota but to the neighboring state, South Dakota. To the same place I couldn't wait to leave last year, I was counting down the days until my departure saying I would NEVER return. Well, never say never......! Nothing is for sure with me regarding travel until I'm actually on the airplane. What made me change my mind about going is that I will be working and staying with Mandy. Not with some crazy freaks that I got housed with last year, one of the many reasons I said I would never return. I'm only going for about ten days or so and I guess I can subject myself to the Square Of Torture (one of the stages there) and whatever else annoying for that amount of time. Money was OK there and I think it will be better this year. Plus I will get to hang with Mandy, we are getting along well and I think we will have fun. Plus she sent me this pic the other day, I was driving when she sent it and I almost ended up in the ditch from pure distraction. How can I NOT go after seeing THAT?

Mandy now has to send me at least one SEKSI pic of herself a week, otherwise I will throw a fit.
Now to some local stripper news. I am back at work. I have been occupying myself with manually castrating men that deserve it. The other night a drunk and dumb man referred to ALL women as stupid more than once and dismissed me with having nothing worthy to say with "you are just a stripper". He got chopped up, his small penis thrown into the dark forest and the rest of him, his ashes, ended up in one of our many urns. Yep, this is what happens here if you rub me the wrong way. It's Alaska after all, we make our own laws here.
Don't mouth off in the strip club if you want to make it out alive!
Last night started out really slow. The main attraction until about midnight was Chuck, he slept on the stage. I wanted to sleep too. I get very bored and sometimes cranky when I just sit around. Some guys finally came in. I had some really good conversations, I think I made some new fans. Good!
For some reason a copy of this article has been put up in both dressing rooms at work.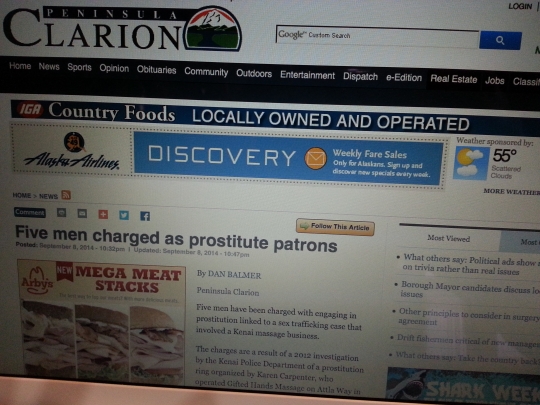 A few years ago a massage place in town got busted after somebody got news about that there might had been some illegal activities going on in there. I guess they offered more than deep tissue massages. Prostitution is illegal in Alaska, Nevada is still the only state where it's legal and regulated in some counties. So the "madam", two of the ladies offering "massages" and seven guys so far have been charged and sentenced. I don't have any clue why this should be up in our dressing room, we are after all a STRIP CLUB? None of the ladies I work with would ever do these kind of things, in and out of the club? Right??? Or am I just being naive, having a blonde stripper moment? Listen, there is a GOOD reason for that article to be put up, I know this. It is obvious to me that some things are totally out of hand. I am not worried whatsoever for any kind of prostitution allegations against myself, I am strictly adhering to dancing, yes strip club style dancing, I am very much aware of that but still, only dancing. BUT some of the other ladies I work with might be doing something else......or? Certain things do NOT belong in a strip club (take it to the local massage place for crying out loud!), I think this is one of the topics I have written the most about in my blog. I have many strong opinions about this issue. If you want to be doing some non dancing stuff, get a room, I don't want to see it or be around it. OK!? Plus, I can't and don't want to "compete" with that. So when my "dancer" co workers engage in some questionable behavior then that takes away from MY income. And I don't do shit like that. Period. Actually a good friend of mine got some dances at the club here last week. One of the ladies that entertained him performed what he described to me as "a handjob and a blowjob" over his pants. He was not impressed and added that he was very surprised that this even happened, that it was allowed to happen.
But it is becoming more and more common. Very frustrating for us clean dancers. The clean dancer - a dying breed it seems.
Now to some sad news. A girl I worked with earlier in the year, Shadow, passed away last week. She only worked at the club for a short time. I felt great sympathy for her because I felt like she was going through some serious issues. Not the regular stripper attention seeking, crazy drama that I have witnessed too many times. In fact I did not think Shadow should had worked at the club in the first place, not a good environment for her, she needed help. I feel very bad that she died, she was a young girl with so much more of her life to live. I made her a little memorial, just to let her know that she is in my thoughts. From the obituary "She will always be remembered for her talent and love of art and dance, and as a kind, loving, beautiful and creative person. We can all know that she is resting at peace."
Ugh.....I want to cry now.