Evening thoughts from my bed......
I would like a job from home, of course like so many others that do not want to waste preciuos time commuting back and forth to a place of employment.....a job that combines sipping on latte and writing while in bed. Maybe Elon has an available job that fits that description for me? Important....the job needs to include one daily latte, a laptop and my own bed. I am not willing to drive anywhere.
While getting groceries the other day, I saw this. I first thought it was a butt plug but then I realized it is something you use on citrus fruits. For some reason Portland dancers, some not all but too many in my opinion insist on cramming butt plugs into their behinds. I don't get it, there is nothing visually pleasing about that. Visually intriguing perhaps. I think I might get this citrus tool and bring it to one of the clubs I work at and leave it in the dressing room, maybe somebody will think it looks like something they want to try out. A wooden more natural style butt plug instead of the usual shiny sparkly ones that my eyes get assaulted with. Blergh.
During that same grocery trip I saw the cutest bag of coffee. My kind. Animals and mushrooms.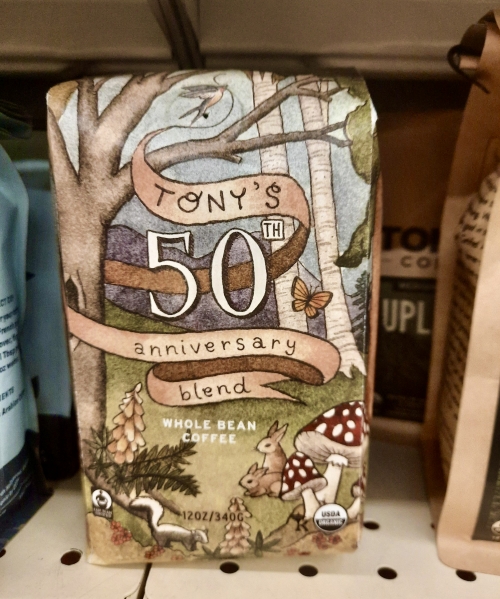 If somebody has missed it.....I think it is official by now. Staring straight into our faces everyday. Society is diseased. The senseless violence on a daily basis that people subject the innocent to is pure insanity. Thoughts and prayers do not work in case you did not know. Perhaps putting some thoughts into what can be done to make some serious changes.
I don't know what to say anymore. It is almost easier to just look past it. Sadly. This is the new normal now.
So let me tell you about my visit to the laundromat this evening instead. It was just me and a shirtless barefoot guy enjoying a cold one. As soon as I walked in he said, "What's shakin bacon and what's cooking good looking". I quickly told him that I was not in the mood to talk because I am on my period. Well that did not matter too much to him cause he said, "At least you are not pregnant".Ya.....good thing, I would never want to put an innocent child into this world I explained. A few minutes later he put on a hoodie, took his pants off and put another pair of pants fresh from the dryer on and while doing so I got to see the whole package. You know.....one of those visual treats one might get while at the laundromat. To clarify, I did not ask to see that. A bit later he needed help zipping up his backpack, which I helped him with. After that he decided to take a leak right outside the entry so I got lucky and got to see the package again. Good that I am not a pearl clutcher. A fun time is almost a guarantee at any random laundromat in Portland. Interesting for sure.
I actually looked into what it would take to own a laundromat a while back. I have some great ideas and my laundromat would be an immaculate, safe and fun place. But even taking over a laundromat takes a sizeable chunk of dough.
Perhaps Elon can sponsor me?
Touching on the situation in the world again .....it is not that I am not caring and not sensitive to it. I just don't know what to do about it.