Today I got up at 10, showered and washed my hair....stepped out of the house, got picked up by Carmen. We drove to Dalarö where we met up with Marie and her son Timmy.
Walked around a bit. Dalarö is a gorgeous place, of course. Right on the ocean. Next time I'm in Stockholm I want to spend some time traveling around in skärgarden (archipelago), there are so many beautiful places to explore. We had fika and talked. The weather was a mix between sunny and then gray, windy and rainy. Good I brought a jacket and an umbrella.
You can hop on a boat in Dalarö that will take you to one of the many close by islands.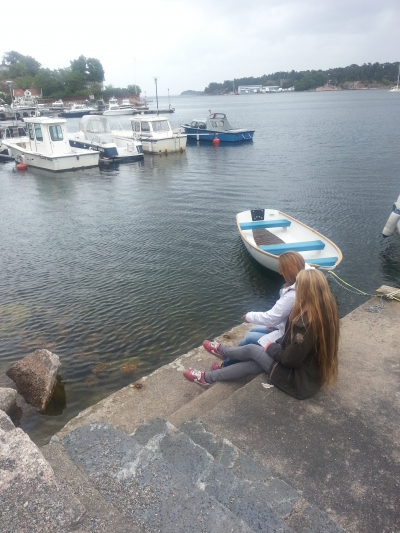 Me and Carmen.....friends since second grade!
Then I got home....dropped off some stuff and ran to pendeltåget. Into City to meet up with Monika. She took me to Vurma, delicious food and we befriended two nice Japanese girls,
I might have a new friend in Tokyo now, in Shibuya of all places! Pannkakor med hallon och grädde - GOTT!