My Burning Man story is nearing it's end. It's been a over a month now since I left the playa. Did you know that there is an online clock that counts down the months, days, hours, minutes and seconds to the next Burning Man? I check it sometimes......I am counting down the time as well. I have some more random pics to show you.
Some people brought their little ones to Burning Man. I think that is OK, hopefully the kids that do experience the event will get something good out of it. I don't know about bringing babies though. I saw a couple in particular with a one year old on a few occasions.....they were not the best parents I can say from observing them and the baby a few times. If you need to party that bad then leave the baby at home in the care of somebody better suited to watch it than you are.
The Thunderdome. I loved this place. Basically an area where people strapped into bungees could beat each other up with large soft ish bats. It was great. No, I did not participate. I saw some people leaving that place with bloody noses. I am too vain and do not need any reconstructive face surgeries.
My stuff.
The cute baby giraffe stuffed animal in the Osiris dance tent. I love stuff like this. And yes, people danced with it.

Bathroom sign.
Random people.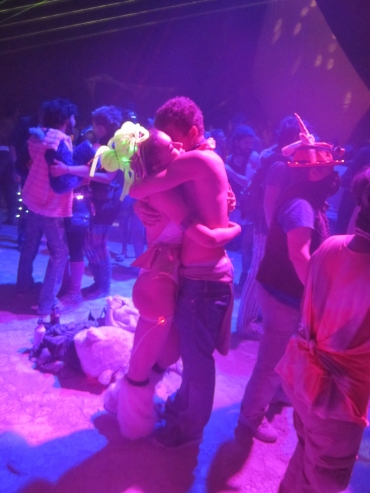 I have a lot of similar statues. One day when I figure out (if I ever do) where I am settling down, I am going to have the most amazing home full of stuff like this.
Some parting words.