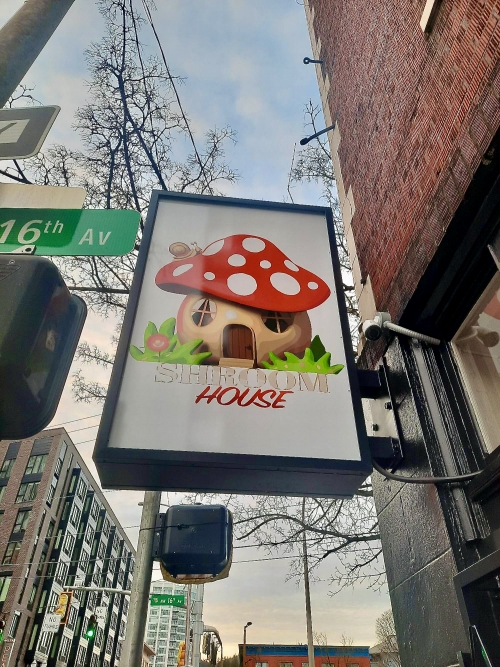 Sometime in October of last year a place called Shroom House (with the cutest sign) opened up on NW Burnside in Portland. They managed to stay open for about two months with not much buzz......until a local newspaper/website sent in a reporter that purchased some psilocybin. And then he wrote an article about it. After the article was published the word was officially out and people were standing in line for hours to get some. Basically to get some "magic" mushrooms. And a bit after midnight on December 8 2002 local police officers raided the place, arrested several people and Shroom House is now permanently closed. Psilocybin got seized and most likely destroyed which is terrible. Yes yes....I KNOW that psilocybin is considered a Schedule I substance under the Controlled Substances Act and bla bla bla but there is no way I think that you can compare psilocybin to heroin (also a Schedule I substance) for example. Cocaine and methamphetamine are considered Schedule II drugs.....just some random facts.
People do all kinds of illegal shit every day. Some illegal things are not that bad in my eyes.....like buying and using magic mushrooms. Although personal use of psilocybin here in Oregon is legal. If I am not mistaken it is illegal to pick magic mushrooms like for example psilocybe azurescens in the wild.....like WTF. The law differs on possession and consumption, educate yourself on it because I am certainly NOT doling out legal advice.
I totally believe in microdosing although I do not do it. Currently at least. Who knows if I ever will in the future. But I also believe in being responsible and educating yourself about these matters before taking anything mind-altering (for microdosing one can look up the Paul Stamet's Stack Method). Same as educating yourself on the possible side effects of whatever prescription drugs you might be taking. I think it is too bad that Shroom House closed down and that people were arrested. I wanted to at least go inside to see what it looked like and feel the vibe.
It would had been better in my opinion to arrest pedophiles, animal abusers and scum like that. Close down some other place that perhaps is not contributing to anything useful or good. Not that the police is not working actively to arrest random scum bags and criminals out there but I think that Shroom House was a nice addition to Portland. The city's (un)official slogan is "Keep Portland Weird" after all.
In case you do not know....I am a sober person like 99.5% of the time. But I am also for psychedelics, to be utilized in a responsible manner as should alcohol and marijuana as well. Most people that can think for themselves have realized that psilocybin mushrooms are an amazing fungi that can be of great benefit for humans. Of course not everybody should eat a handful of magic mushrooms. Just like most people should limit their alcohol intake to one or two beverages in one sitting, three at the most.
There are several articles written about Shroom House if you are interested in finding out more about the place.
Something called Measure 109 passed here in Oregon in 2020. I was in total support of Measure 109 and went to see Sheri and Tom Eckert speak about it in 2019 and I had a "Yes on 109" lawn sign in my front yard (now it is in the back yard). I have even considered becoming a psilocybin facilitator but for now I am holding off and gathering more information about the whole psilocybin thing here in Oregon since it is still developing.
You can read about Measure 109 here.
https://ballotpedia.org/Oregon_Measure_109,_Psilocybin_Mushroom_Services_Program_Initiative_(2020)